What does 'affordable luxury' mean to you?

You'll hear the terms LVT, as well as LVP and LVF, but they're all variations of luxury vinyl flooring (LVF)

Richmond Carpet Outlet is now going into its 29th year of business and we're proud to say we have one of the largest flooring inventories, including carpet, hardwood, laminate, luxury vinyl and tile in the Ohio Valley.

LVT stands for 'luxury vinyl tile' and we're a major retailer of this flooring.

Our service includes both residential and commercial installations, and we offer a free in-home measuring.

We know that flooring is a big investment. It's also your expression of personal style. There's an overwhelming amount of choices, so we'll discuss your lifestyle, budget to help you make the right choice. We'll even tell you about various installation techniques.

Be sure to explore our LVT flooring store. Our showroom is in Richmond, IN and we service Richmond, Centerville, Cambridge City, Eaton OH, Connersville IN, Rushville IN, and Winchester IN., and ask about our free in-home measuring.
Why you'll love the style
While one of the great benefits is that LVT is waterproof, this flooring isn't just for kitchens, baths or laundry rooms. We're seeing it in every room in the house, including living areas and bedrooms, as well as in some high-end homes.

It is a realistic mimic of tile or stone.

Just like the real thing, it comes in a wide range of colors, patterns, and designs. Special features such as embossing give it depth and dimension. It's not the flat image you may remember from decades ago.

LVT can be cut into tile-sized pieces, and the seams give it even more realism.

As a special note, LVF can also be cut into planks to also mimic wood or provide a large format for stone.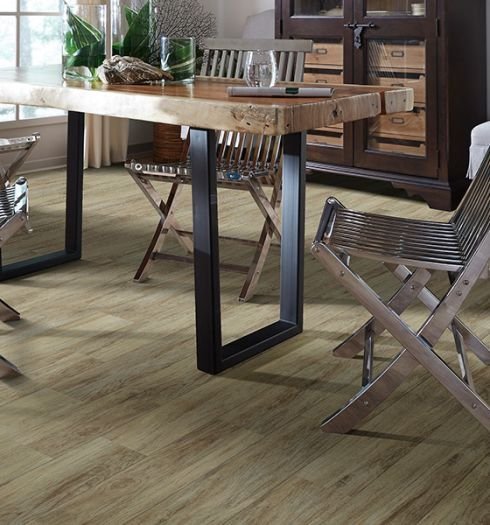 Other benefits include:

Luxury Vinyl Tile (LVT) will look wonderful in any home. We display some of the top brands in our showroom, and we'd be happy to talk to you about how LVT might meet your flooring needs. Give us a call to schedule a measurement, or come by the showroom and we'll be glad to assist you.

Find out how LVT can be a long-lasting flooring option for your home and business by calling us today.

    

Price. While it looks like the real thing, you'll pay a fraction of the cost.
Durability. Vinyl is a tough material, and this one is layered, with the top being a clear plastic wear layer that has superman strength. It protects against scratches, scuffs, and wears.
Easy to clean: Sweep and mop.
Simple installation. DIY-friendly, it "floats" over most existing floors and the pieces just click together.