Why choose laminate floors?


The question should be "why not choose laminate floors" because they just aren't what you may remember from decades ago.

Richmond Carpet Outlet is now going into its 29th year of business and we're proud to say we have one of the largest inventories in the Ohio Valley. We carry everything from carpet to hardwood, tile and more.

We'll work with you to understand your lifestyle and budget and, although laminate is a DIY-friendly installation, we can also do it for you if you wish.

Our service includes both residential and commercial installations. We offer a free in-home measuring.

Be sure to explore our laminate store. Our flooring showroom is in Richmond, IN and we service Richmond, Centerville, Cambridge City, Eaton OH, Connersville IN, Rushville IN, and Winchester IN.

Style galore!
Ever look at those glossy wood floors in the design pages and say, "I wish I could afford that!" You can, because laminate will give your floors an amazingly realistic look of wood, tile or stone.

They can even be cut into planks or tile-sized pieces, and the seams will give it even more realism.

Add embossing for texturing such as wire brushed, hand-scraped, distressed or antiqued and then put on a matte or glossy finish.

If you'd rather stone, you can get the look of marble, slate, quartz, limestone or travertine. As for tile, you can get all the colors, patterns and designs of the real thing.
Prices you'll like
While you may get the look you want, you'll pay far less!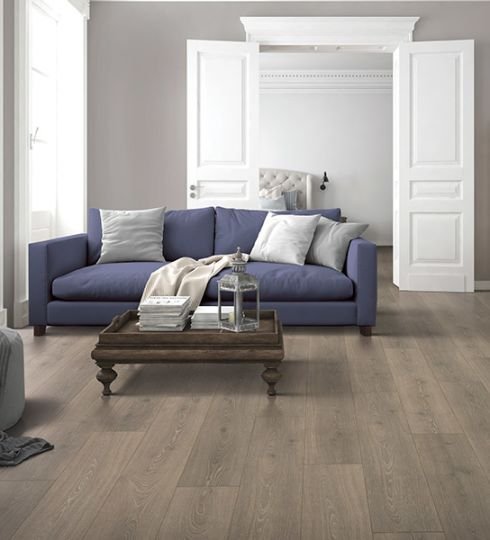 Other reasons to choose it

Keep in mind that laminate floors, although highly water-resistant, are not waterproof. They include wood byproducts, and wood can be damaged by excess water. Wipe spills immediately and, during installation, make sure the pieces fit very closely together so water can't get in between the joists.

We offer a wide variety of laminate flooring! Laminate is a great alternative to hardwood flooring. It's easy to install, easy to maintain, and very durable. Check out some of the laminate floors below, and give us a call if you're interested in a free measurement for your home or business.
    

Durability: Laminate is a layered material. The core is made up of high-density fiberboard, which is very tough, but on top is a clear plastic wear sheet made of ultra-strong aluminum oxide. It protects from scratches, stains, scuffs, and wear.
Easy to clean: All that's required is a broom and mop.
Simple installation: You can DIY it or have it professionally installed. With few exceptions, the material can be placed over existing floors and the pieces click together.