Five things to know about hardwood

We all know how beautiful, timeless and classic hardwood is, but there are many other benefits of this flooring.

Richmond Carpet Outlet is now going into its 29th year of business and we're proud to say we have one of the largest inventories. We carry everything from carpet to laminate, tile and more.

We ask and answer a lot of questions so we can completely understand your lifestyle and work within your budget. We also discuss various installation techniques.

Our service includes both residential and commercial installations. We offer a free in-home measuring.

Be sure to explore our flooring store and explore our hardwood. Our showroom is in Richmond, IN and we service Richmond, Centerville, Cambridge City, Eaton OH, Connersville IN, Rushville IN, and Winchester IN.
#1: Two kinds of hardwood
Solid hardwood flooring is one slice throughout the plank. Another type, engineered wood flooring, has one slice on top, with three or more layers underneath that are made of both genuine wood and other materials. They are placed in a crosswise manner, so that gives it more stability, as well as a better ability to handle water.

Construction is the only difference. That means engineered has a little more versatility in areas where it can be installed; for example, this one is okay for below-grade areas like basements.
#2: It is an investment
Any wood increases property values. We're also told by real estate sales associates around the country that potential buyers will often pay more for a home with these floors.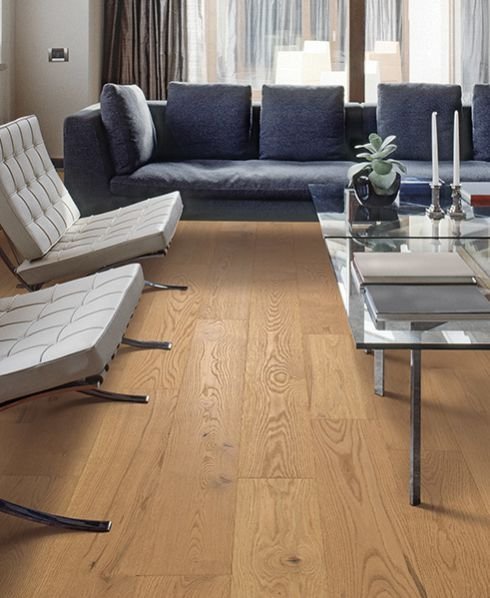 Other benefits

Don't try to DIY the installation. It requires special skills and tools, as well as subfloor preparation.

Hardwood flooring is a beautiful option for your home or business. We offer the very best brands available from trusted manufacturers. Whether you are looking for a rustic oak or a deep, red finish, we'll be able to show you samples in our store to find the perfect match for your needs. Want to install your floor on your own? We'd be happy to help with tips and information for the do-it-yourself crowd!

Give us a call to schedule a free measuring in your home or business!
    

Easy to care for. Vacuum several times a week (without beater bars), wipe spills immediately, placemats strategically and use furniture pads when moving.
Long life. Some last for 100 years and only look better with age.
Both can be refinished. Solid wood flooring can be sanded five-six times, while engineered hardwood depends upon the thickness of the veneer, generally one to four times.
Fits into any decor. It works whether your home is traditional, modern or cottage. If you want a change in color, simply sand and stain.